PHOTOBIO•V is a modular, high efficiency LED designed for vertical farming. PHOTOBIO•V fixtures and tailored spectra have proven themselves worldwide in everything from heavily automated massive vertical farms down to single rack installations. PHOTOBIO•V's slim vertical profile maximizes vertical real estate allowing greater production space, and its modular design lets you link and power multiple 100–277V fixtures from a single input power. All PHOTOBIO fixtures feature true IP 65 ingress protection rating from dust and liquids. IP65 power connection allows quick attachment at the fixture for easy installation and maintenance. The PHOTOBIO•V LED is available in a commercial pack of 12, and comes with , bare whip power cable, daisy chain cables, and mounting hardware.
PHOTOBIO•V is available in 100V through 277V configurations, in the following spectra: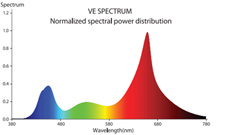 VE Spectrum: Vegetative centric spectrum has been extensively trialed on over 300 plant varieties. Over 100,000 VE Spectrum units currently employed worldwide producing thousands of pounds of fresh produce every day. Perfect for vertical farms and vegetative stages of plant cycle.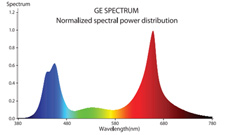 GE Spectrum: The Germination spectrum is optimized for both chlorophyll a and chlorophyll b by using two very specific horticulture chips giving a double peak at around the 435 and 460 nanometer region. Ideal for propagation and cloning applications. This unique optimization helps increases yield while using less energy in many cultivars.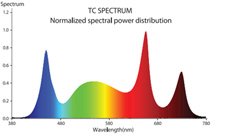 TC Spectrum: This tissue culture spectrum is fine-tuned for rapid cell division. Typically employed in low wattage fixtures, the TC spectrum provides ideal proportions of red, far-red, and blue light while maintaining high CRI.
FEATURES:
High capacity production capabilities: Backed by technology from one of the world's largest manufacturers of LED chips
Slim vertical profile: Maximizes vertical real estate allowing greater production space
Modular design: Provides the ability to link and power multiple 100–277V fixtures from a single input power
True IP65 protection: Defends against water and dust
Three year warranty
INCLUDES:
(12) LED light bars
(2) 20" Micro IP Female input power cable (bare wire leads)
(12) 18" Micro IP Male to Micro IP female daisy chain cable
(24) Surface mount buckle clips
(24) Buckle screws
(12) T shaped hanging bracket(For sub-canopy or inter-canopy applications)
(24) Screws for T shaped hanging hardware
(24) Nuts for T shaped hanging hardware
(1) User manual